COCOON AQUA HYDRATION POD
Dual Radiant Heat and Steam Infusion for Wellness, Hydration, & Skin Wellness. Perfect as an addition to Spas, Tanning Salons, Fitness Centers, for Home Use, Corporate Wellness, and more.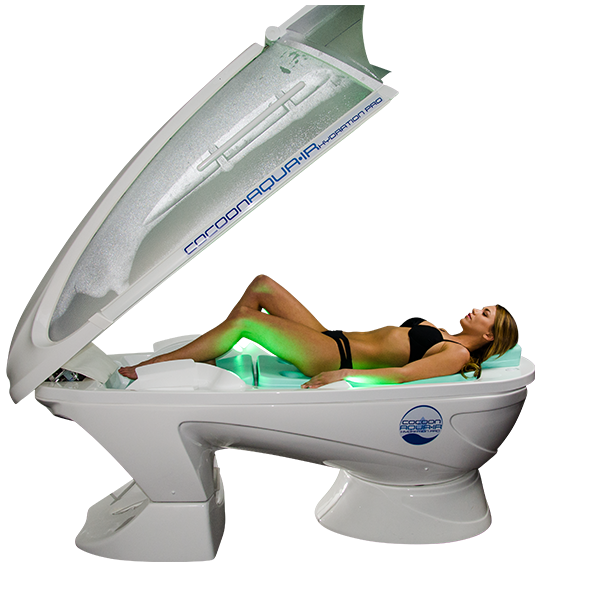 ABOUT THE COCOON AQUA HYDRATION POD
The Cocoon Aqua Hydration Pod is the first revolutionary whole body wellness pod system that provides the skin surface with deep heat and steam infused with topical, soothing moisture, water proteins, and liquid vitamin solutions.
Liquid Vitamin Steam-Infusion System
Radiant Heat System
Steam Heat & Diffusion System
Colorful Ambient Mood Lights
Vibratory Massage Bed
Aromatherapy
Comfortable Bed & Head Pillow
Adjustable Cool Facial Air
Deluxe Color LCD Display
Translucent Shell
Stereo Ready – 1 waterproof 150W speaker compatible with headphone jacks
Air-Ready Ports for Enriched Oxygenized Air (optional)
TMAX Compatibility – Remotely operate and monitor
The Cocoon Aqua Hydration Pod was designed to exceed your expectations by integrating flawlessly into your existing spa treatments and wellness business model. The Cocoon Aqua Hydration Pod can help you drive retail and membership sales by attracting new clientele who are looking for ways to offer new body wellness services with skin hydration and wellness, natural whole body fitness and weight management programs and relaxation solutions.
PRE-SET WELLNESS PROGRAMS
Premium Oxygen Science Liquid Solutions infuse steam with natural herbs, select vitamins and liquid aquaporin nutrients for enhancing the appearance of hydrated, glowing skin! Beautiful skin wellness hydration is now easier than ever. Our skin tissue is 90% liquid and the Cocoon Aqua IR Hydration Pro provides special oxygenated solutions that topically nutrify the skin with liquid-only technology.
Directions for Concentrates: Add one ounce (3 capfuls) of selected concentrate into the steam-diffusion reservoir.
LED Color: Ambient Green
Oxygen Science Product: Hydrate or Aloe
Fragrance: Cucumber & Melon Blends
Key Ingredients: Aloe, Collagen, Algae, Hyaluronic Acid
LED Color: Ambient Blue
Oxygen Science Product: Cleanse or Mineral Melanin
Fragrance: Chamomile, Geranium & Lavender
Key Ingredients: Green Tea, Algae, Minerals, Bark Extract
LED Color: Ambient Orange
Oxygen Science Product: Bright-n-Luminous or E&C
Fragrance: Citrus
Key Ingredients: Vitamins E, C, A, B, Green Tea, Oligopeptides
LED Color: Ambient Pink
Oxygen Science Product: Weight Management or COQ
Fragrance: Pomegranate & White Tea
Key Ingredients: Caffeine, Yerba Mate, Algae, Cranberry
EASY INSTALLATION FOR COCOON HYDRATION STEAM POD
When you buy an hydration wellness & exercise steam pod, the setup and installation is simple. The Cocoon Aqua Hydration POD offers the advantages of small floor space, providing intimacy and privacy. It does not require any plumbing, particular installation, nor specific configuration. Just a simple electrical outlet and you can immediately offer a wide range of automated wellness services.
| Technical Specifications | Cocoon Aqua Hydration POD |
| --- | --- |
| Water Supply | No Plumbing Required |
| Weight | 265 lbs |
| Height (Closed) | 40″ |
| Height (Open) | 84″ |
| Height (Pedestal) | 10″ |
| Length | 90″ |
| Width | 35.5″ |
| Power Requirements | 230 V, 50 -60 Hz |
| Amperage | 15 Amp |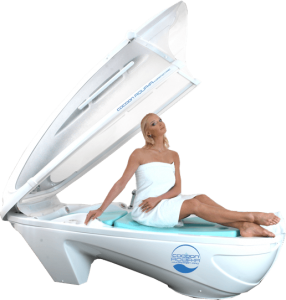 THE WORLD'S ORIGINAL & MOST ADVANCED WEIGHT MANAGEMENT & RELAXING WELLNESS EXERCISE SAUNA PODS
GO WITH WELLNESS USA FOR FACTORY DIRECT
— GUARANTEED LOWEST PRICING!
PERFECT FOR THE HOME AND PERSONAL GYMS OR FOR LEADING EDGE WELLNESS SERVICES AND GREATER PROFIT POTENTIAL AT SPAS, FITNESS CENTERS, HOLISTIC WELLNESS CENTERS, LUXURY DESTINATION RESORTS, TANNING SALONS, HOTELS, CRUISE SHIPS, AND MORE!
NEWEST MODELS OF ALL WET AND DRY WELLNESS SAUNA PODS AVAILABLE NOW!